ViperBots advance three teams to FIRST Tech Challenge South Super-Regionals
February 25, 2017 — After two full days of robotics competition at the Alamo First Tech Challenge (FTC) Regionals in San Antonio this past weekend, Vandegrift ViperBots robotics teams QuadX (6299), Venom (6209) and Hydra (7161) advance to the First Tech Challenge South Super Regionals to be held in Athens, Georgia March 23-25.   A total of 80 teams from Central and South Texas competed in  San Antonio, with only 13 teams advancing.
Vandegrift was highly represented, with seven teams competing in San Antonio.
"It was really exciting to see how well the kids did this weekend.  They worked very hard and showed a lot of professionalism," said Irad Allen, Director ViperBots Robotics.  "The competition was the toughest it has ever been in the seven years I have been involved in the program.  I am really grateful for the teams moving forward and I am really proud of the work all the ViperBot teams have done."
The teams played this year's game, "Velocity Vortex".  They were split between two divisions:  Naylor and Kane.
In the South Super Regionals, robotics teams will be be vying for a spot at the 2018 FTC World Championship in Houston in late April.  Last year, Vandegrift had two teams qualify and compete at the Championship competition.  
Below is a complete listing of Awards won by ViperBots at the Regionals.  For a description of each Award, browse to FIRST Award descriptions: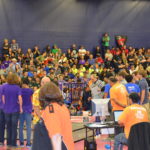 FIRST Tech Challenge Dean's List Finalist – Adam Busch, 6210 Stryke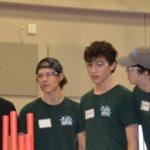 4545 Ouroboros:
Kane Division Finalist Alliance Second Pick
Control Award Finalist 2
Rockwell Collins Innovate Finalist 2
4546 Snakebyte:
Naylor Division Finalist Alliance Second Pick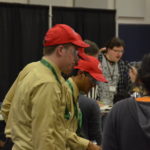 6299 QuadX:
Event Finalist Second Pick
Naylor Division Winning Alliance Second Pick
Control Award Finalist 3
PTC Design Award Finalist 2
Inspire Award Winner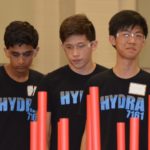 7161 Hydra:
Kane Division Finalist Alliance Captain
Rockwell Collins Innovate Award Winner
Think Award Finalist 2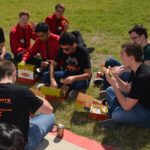 11503 HyperFang:
Connect Award Finalist 3
Way to go ViperBots!
---
February 23, 2017 — The Alamo FTC Regional Championship is just a day away!  ViperBots Team 4545 Ouroboros, 4546 Snakebyte, 6209 Venom, 6210 Stryke, 6299 Quad X, 7161 Hydra and 11503 HyperFang will converge upon San Antonio on February 24 – 25 at  Veterans Memorial High School.  All told, there will be 80 FIRST Tech Challenge (FTC) teams vying for one of thirteen spots advancing them to the South Super-Regionals in Athens, GA next month.  The teams will be playing this year's game, "Velocity Vortex."
Opening ceremonies and match play will take place at 1pm Friday and 8am Saturday.  Competition matches will take place in the Auxiliary Gym.  The public, parents, family and friends of participating teams are invited to support and cheer on the robotics teams at this event.
Learn more about Teams in the Pit Area.  The Competition Gym will be transformed into the Pit where Teams will showcase their robot, outreach efforts and season accomplishments.  Between matches and during lunch you will find teams making needed repairs to their robot.  Browse to this  Pit Map to find your favorite teams.  Please note: ALL are required to wear safety glasses while in the Pit area.
Teams split between two divisions – Naylor and Kane.  The matches in each division will be played on two fields.  Two fields in Naylor and two fields in Kane.  Be sure to check which division your student's team is assigned and save seats for you and your family on the side nearest to their division to best see all the robot action.  Browse to Team Division Assignments for a complete listing of teams.
Naylor Division:
4546 Snakebyte
6209 Venom
6299 Quad X
Kane Division:
4545 Ouroboros
6210 Stryke
7161 Hydra
11503 HyperFang
Schedule of Events:
Thursday, February 23, 2017
5:00 – 8:30 pm: Pre-inspection
Friday, February 24, 2017
8:00 am: Team Check-in and Load-in begins
8:40 am: Judging and Robot Inspection begins
11:15 am: Inspections end
12:00 pm: Judging ends
12:00 – 1:00 pm: LUNCH
1:00 pm: Opening Ceremonies & Match Play begins
5:30 pm: Match Play Ends
6:00 pm Pits Close
Saturday, February 25, 2017
8:00 am: Pits Open
8:10 am Match Play continues
10:30 am: Alliance Selection
12:00 pm – 1:00 pm: LUNCH
1:00 pm: Elimination Rounds
4:00 pm: Awards Ceremony
5:30: Pits Close
**Schedule subject to change. All times are estimates based on flow of rounds.
Thank You Volunteers!  We are grateful to all FIRST volunteers, as well as, ViperBots Friends & Family (VFF) booster club, Mentors and Sponsors — as this event would not be possible without them.  THANK YOU for giving your time and talents to support STEM and robotics!
Please follow and like us:
Alamo FTC Regional Championship | February 23-25