March 25, 2017 — UPDATES
7:30am CDT
Day 2 has begun at the Classic Center in Athens, GA.  The Finals will start at 12:30pm CDT and Closing Ceremonies including Awards will begin at 3:30pm CDT. Today is a new day. Good luck teams!
March 24, 2017 — UPDATES
6pm CDT
Match play will resume tomorrow at 7:30am CDT. Day 1 is now in the books. It was a tough day for ViperBots with lots of ups and downs. The teams completed 6 matches and will play the remaining 3 tomorrow.  The ViperBots rankings in Pemberton Division are as follows (out of 36 teams):
Hydra 14th with 4 wins/2 losses
Venom 25th with 2 wins/3 losses/1 tie
QuadX 27th with 2 wins/4 losses
View a full listing of Pemberton Rankings and Kilrain Rankings.
1pm CDT
QuadX is up now with 7826 as alliance partners in blue and 327 & 3846 as opponents on red.
Venom and Hydra lost match 15 180-110 even though they narrowly capped and their opponent didn't. The other alliance scored more balls in the center vortex and changed more beacons.
12:30pm CDT
Teams are back from lunch break. First up is a Texas two-step with Venom and Hydra as alliance partners in Pemberton Division Match 15.
11:20am CDT
Match play has stopped for a lunch break. So far the ViperBots teams have each played one match each with Venom and Hydra winning their matches and QuadX narrowly losing theirs by 5 points.
11am CDT
Match schedules have been uploaded to ftcscores.com. All ViperBots teams are in the Pemberton Division with their individual schedules posted below. The Velocity Vortex game play will begin shortly.
6209 Venom Match Schedule: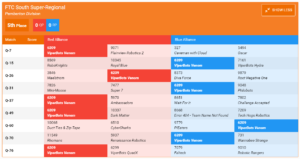 6299 QuadX Match Schedule: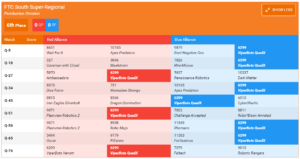 7161 Hydra Match Schedule: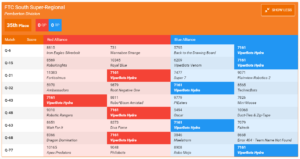 ---
March 22, 2017 — The FTC South-Super Regional Championship matches are just one day away! ViperBot Team 6209 Venom, 6299 QuadX and 7161 Hydra are in Athens, GA for the 3-day event. They will be just one of seventy-two teams from eleven south-eastern states, including Texas, Oklahoma, Arkansas, Louisiana, Mississippi, Tennessee, Alabama, North Carolina, South Carolina, Florida, and Georgia, vying for thirty-six spots to the FTC World Championship Houston in April! That's thirteen more spots than last year! The event will begin on Thursday, March 23 and run through Saturday, March 25 at the Classic Center.  The FIRST Tech Challenge (FTC) teams will be playing this year's game, "Velocity Vortex."
Opening ceremonies will take place at 10:00am EDT on Friday, March 24. The public, parents, family and friends of participating teams are invited to support and cheer on the robotics teams at this event. The seventy-two teams will be split between one of two Divisions – Pemberton and Kilrain – each comprised of two fields where matches occur. As fate would have it, all three ViperBots teams have ended up in the Pemberton Division. For a full list of teams and their associated division, browse to http://ftcsouth.org/divisions/
Tune in to the Live Webcast! Those not travelling to Athens need not fret! You may still catch all the action and cheer on the ViperBots at Supers by watching the LIVE webcast. Tune in around 12pm EDT on Friday and 8:30am EDT on Saturday. Share with family and friends! GO ViperBots!
Watch Pemberton Division (6209, 6299 & 7161) here => http://www.esenetworks.com/page.aspx?id=17368&page-id=127376
Watch Kilrain Division here => http://www.esenetworks.com/page.aspx?id=17368&page-id=127378
Watch the Main Stream (interviews and commentary) here => http://www.esenetworks.com/page.aspx?id=17368&page-id=127458
View Scores – in real time! To view scores, just visit FTCScores.com and follow the instructions provided.
Schedule of Events (all times Eastern Time):
Thursday, March 23, 2017 
8:30 AM – Offsite Company Tours
10:00 AM – Pit Load-Ins begin (Load-In occurs based on scheduled appointment, limited pit access, no setup)
2:00 PM – Pits Open to all teams, Pit setup begins
3:00 PM – Judging & Inspections
7:30 PM – Pits Close
Evening On Your Own
Friday, March 24, 2017 
8:00 AM – Pits Open to all teams
8:30 AM – Inspections Continue
9:30 AM – Driver Meeting
10:00 AM – Opening Ceremonies
11:00 AM – Qualifying Rounds
12:30 PM – Lunch
1:30 PM – Qualifying Rounds Continue
7:00 PM – Pits Close
7:00 PM – Team Social Dinner
7:30 PM – Team Social with DJ Mickey NightRain
10:30 PM – Team Social Ends
Saturday, March 25, 2017 
8:00 AM – Pits Open
8:30 AM – Qualifying Rounds Continue
11:30 AM – Alliance Selections
12:30 PM – Lunch
1:30 PM – Finals
4:30 PM – Closing Ceremonies
6:00 PM – Field Area Closes
7:00 PM – Pits Close
**Schedule subject to change. All times are estimated based on flow of rounds. See Pit Administration table for updated times.
Thank You Volunteers!  We are grateful to all FIRST volunteers, as well as, ViperBots Friends & Family (VFF) booster club, and Sponsors as this event would not be possible without them.  THANK YOU for giving your time and talents to support STEM and robotics!