Defends three-year win streak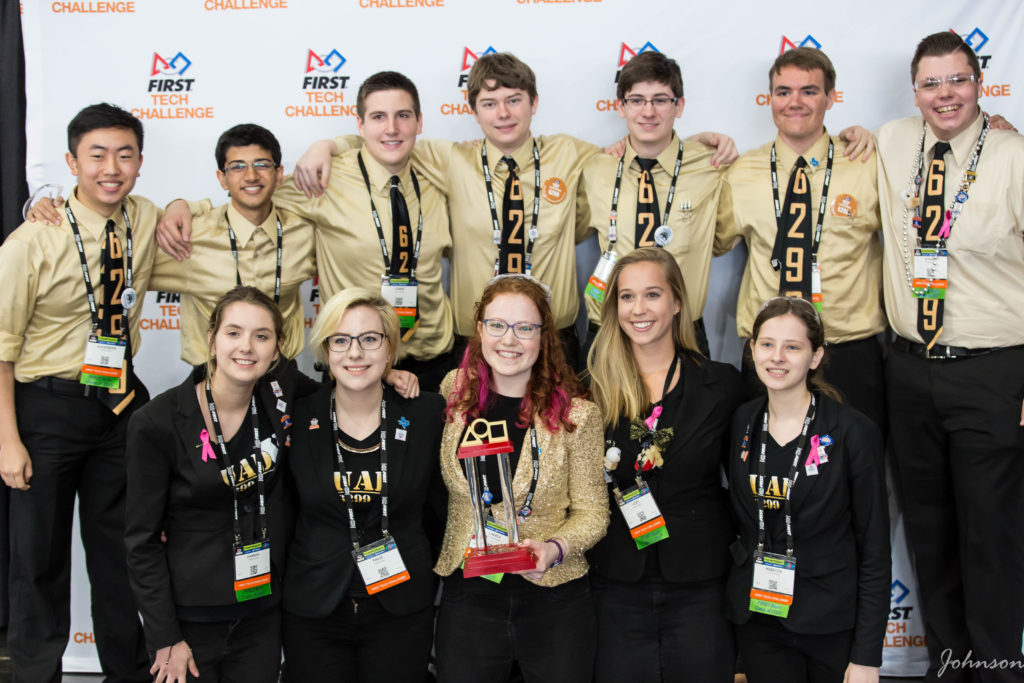 The Vandegrift ViperBots team 6299 Quad X brings home the coveted PTC Design award from the FIRST Tech Challenge World Championship in Houston April 19 – 22. The award, given for industrial design principles which balance form, function and aesthetics, continues a three year winning streak by Quad X.
"A robot that just looks cool can only go so far," said Josh Stelling, Quad X hardware lead and a VHS senior. "A great design is cemented and supported by in-depth analysis and loads of data, and it still has an overall uniqueness to it."
The secret to Quad X's success is really quite simple. "We're always looking for ways to improve our robot," said Linnea May, project manager and a VHS senior. "Knowing our hard work has paid off was really rewarding."
The design award isn't the only first for ViperBots.
"This was the first year that three teams from the same school made it to the World Championship and I am excited that Vandegrift was first," said Tamany Wendel, ViperBots faculty sponsor. 4546 Snakebyte and 7161 Hydra competed at the world championship as well.
"It was both difficult and fun competing with the varying levels of teams from all over the world," reflected Wendel. "I am incredibly proud of how hard the kids worked all year and everything they achieved here."
Robotics competitions such as this one help prepare students for the future. In a month, May and Stelling along with 22 other ViperBots will graduate and call upon the depth of skills learned from robotics.
"Without robotics, my plans for college would be extremely different," May said. "Not only would I not be as interested in engineering but I also wouldn't be going in with the confidence that I can work well with a group of peers to develop a product, even if it's no longer with my robotics team."
Please follow and like us:
ViperBots' QuadX wins design award at robotics world championship