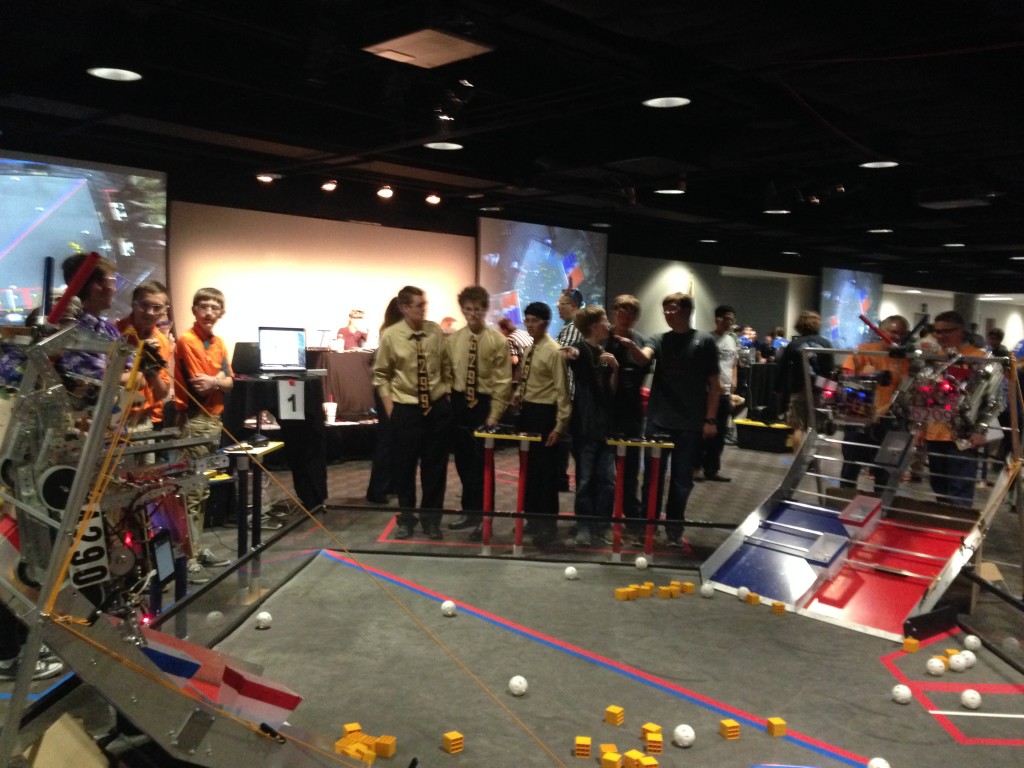 This past weekend, 5 ViperBots teams competed in a field of 84 teams at the FTC Alamo Region Championships in San Antonio, TX.  It was a memorable and exciting competition for ViperBots Teams 4545, 6209, 6210, 6299 and 7161 as they battled to secure one of thirteen spots to next level of competition in the FIRST RES-Q game.  For the third consecutive year, three ViperBots teams came away with victories advancing them to the South Super Regionals!  Congratulations to Team 4545 Ouroboros, 6209 Venom, and 6299 QuadX!
ViperBots Faculty Sponsor, Tamany Wendel was nominated for the Compass Award by the ViperBots teams and received it.  The Compass Award recognizes an adult Coach or Mentor who has provided outstanding guidance and support for a team throughout the year, and demonstrates to the Team what it means to be a Gracious Professional.  Congratulations to Ms. Wendel!
Linnea May (6299 QuadX) was named Dean's List Finalist, and will advance to the South Super Regionals competition. Only two students from the Alamo Region were awarded this distinction.  At the upcoming South Super Regionals competition, two students will move on to the World Championships for the recognition of 10 Dean's List Finalists.
Overall ViperBots results for the Alamo Championships are:
4545 Ouroboros – Event Finalist Alliance 2nd Pick
6209 Venom – Winner Control Award, 2nd Place Innovate Award, Event Winning Alliance 2nd Pick
6210 Stryke – 5th place finish in the Naylor division
6299 QuadX – 2nd Place Control Award, Winner Innovate Award, 3rd Place Inspire Award, Event Winning Alliance Captain
7161 Hydra – 3rd Place Think Award
It was thrilling to watch the robots compete as they all have made great advancements in their scoring capabilities since the beginning of the season, and even since the Vandegrift double qualifier.  We saw more hangs, some claiming the All Clear signal, some claiming the All Clear signal and successfully hanging, and we even saw four robots simultaneously hanging at the end of a match!  There were also tumbles, lots of tumbles off of the mountains.  The robots are put together more tightly now so a tumble is just a minor setback rather than a day-ending situation.  We're also starting to see some defensive tactics to some of these teams and robots.  The rules are tight this year, and there's not a lot of opportunity for defensive play without risking a penalty, but where there's a will there's a way and some of these teams have added defense into their arsenal.
Some of the best teams in the country are in the Alamo Region and the South Super Regional has traditionally had the highest scoring robots across all of FIRST Tech Challenge Super Regional events, so the advancing teams need to be at the top of their game for the Supers coming up March 9th – 11th at the Henry B. Gonzales Convention center in San Antonio, TX.
Please follow and like us:
ViperBots Repeat FTC Alamo Region Accomplishment: Advance Three Teams to South Super Regionals